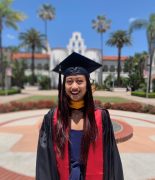 Congratulations to Kelsey Bajet, a master student in the SDSU Department of Psychology who was awarded the Becky Award for her thesis entitled: "Relational Self-Change in Romantic Couples."
The Bryson-Kissinger family established the Rebecca Bryson-Kissinger Memorial Award in 2000 to honor the memory of their former faculty colleague, who for many years served as the Department's graduate adviser.  The award, affectionately known as the "Becky," is given to the master's student in the Department of Psychology whose thesis has been selected as the best from among those submitted during that academic year.
Sincere thanks to the committee members Dr. Jeff Conte, and Dr. Jennifer Thomas. Congratulations to both Kelsey Bajet and her mentor Allison Vaughn!