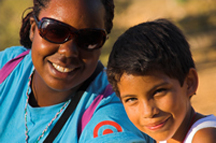 Psychology 495 – Field Placement in Psychology – gives students the opportunity to apply what they have learned in their program of study, as they experience first-hand what it's like to work as a professional in the field. Students spend four hours per week volunteering under supervision at one of our contracted community agencies. Additionally, they attend class on campus for one hour per week to review information about the various populations being served and discuss their experiences with fellow students and instructors.
The populations students serve are very diverse. Youth populations face challenges related to autism, behavioral and emotional disorders, developmental and learning disabilities, homelessness, domestic violence, and substance abuse. Adult populations include those affected by Alzheimer's disease, senile dementia, bipolar disorder, paranoia, schizophrenia, post-traumatic stress disorder, depression, homelessness, domestic violence, and substance abuse.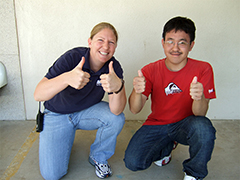 Agency partners that we work with currently or have worked with in the past include, ACES, Benito Juarez Elementary School, Community Research Foundation, Gary and Mary West Senior Wellness Center, San Diego Center for the Blind and Vision Impaired, San Diego Youth Services, Social Advocates for Youth , San Diego Center for Children, and Sierra School of San Diego. Our thanks go out to our community partners for their unwavering dedication to those in need. The need for services in our community is tremendous, and it seems there will never be enough resources to meet the need. Student volunteers can help extend the reach of partner agencies past what their funding provides for. Many students continue doing volunteer work after completing the course, reporting that the experience gained from serving was life-changing, helping them to fine-tune their career path for the future and opening doors to job opportunities. Service learning is truly a win/win situation. Together we are making a difference!
Agencies interested in becoming a PSY 495 community partner can contact Donalene Berger, at dberger@sdsu.edu for additional information.