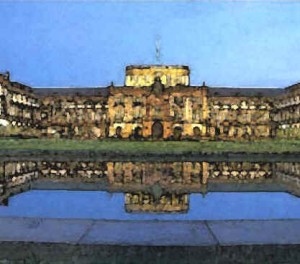 This Program for the mutual support and promotion of student exchanges is entered into between San Diego State University, San Diego, California, U.S.A., (hereafter referred to as SDSU), and University of Mannheim, Mannheim, Germany (hereafter referred to as UM) as well as a means to facilitate and develop the exchange of teaching and research personnel between SDSU and UM.
The purpose of this program is to develop scholarly exchanges between Germany and the United States in the shared conviction that such exchanges contribute to international friendship and understanding and promote global awareness among exchange students from the two participating institutions.  Normally, an exchange will be for one semester or academic year.
The target group for this exchange program is graduate students in applied psychology at SDSU and graduate students in psychology at UM with an emphasis in I/O psychology or program evaluation.
SDSU students participate in the exchange program in their second or third year in the MS program in Applied Psychology.  UM students participate in the exchange program in their second or third year after successful completion of all Vordiplom examinations.
Each exchange student will be selected according to procedures established by the home institution, but each institution agrees to provide resumes, transcripts, and other relevant materials (i.e., TOEFL scores in the case of those whose native language is not English) for each student selected.  The host institution reserves the right to approve all applications.
Each host institution agreed to waive both the application fee for admission and all non-resident (foreign student) tuition fees. When the exchange students register as matriculated students and pay all other fees at their home institution prior to departure, no other fees will be assessed by the host institution.
Exchange students are expected to prepare for their proposed stays through appropriate courses and reading to improve their understanding of the language, history, and culture of the host country and university. In coordination with the faculty at the home and host institutions, each exchange student will prepare a program of study (e.g., courses, internships) to be completed during the exchange.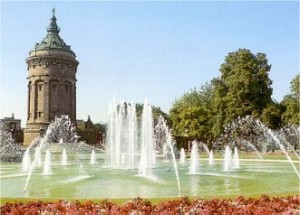 WHY UM?
The Department of Psychology at UM has a strong empirically oriented focus and the academic staff enjoys an internationally high standing in many different fields. In the same vein, a lot of different perspectives and directions for research are offered and can be combined. The result is a broad education in Psychology with a specification in certain, desired areas.
UM is a perfect supplement for the Master of Science Program in Applied Psychology. UM has an excellent reputation not only for its education and research in I&O Psychology and Program Evaluation. Starting at day one at the undergraduate level, UM puts an emphases on research methods and its empirical tradition, and the position of importance of the Chair for I&O Psychology is not surprising, taken into account that UM is the leading German University for Business Administration and Economics.
UM also maintains strong cooperation with local industries and research groups. Mannheim and the nearby city of Heidelberg represent one of Germany's hubs for relevant research, and numerous institutes have settled down here. Here are some examples: ZUMA (Centre for Surveys, Methods and Analysis), ZI (Central Institute for Mental Health), MZES (Mannheim Center for European Social Research), Otto Selz Insitut, and the Sonderforschungsbereich (SFB) 504 at the University of Mannheim.
Of course UM also attracts with other aspects except from studying! Its location offers the possibilities to explore easily other popular German cities such as, for instance, Heidelberg, Stuttgart, Frankfurt, or Speyer. And it combines the merit of living in a city and near the countryside. In the summer the meadows at the banks of the Rhine river near University are a pivot for BBQs and get-togethers.  One very special feature are Thursday nights at UM. Weekly lavish parties are celebrated, either during summer in the castle courtyard (with about 3000 fellows!), or during winter in the castle's catacomb.
Finally, Mannheim and its University, as well as the surrounding area offer a vast variety of sports and cultural events. Mannheim has excellent locations for open-air concerts (e.g. in the castle yard, and for larger events the 'Maimarkt'-arena), which attracts international artists and offers a lot of possibilities for popular local figures.  For more information, visit the UM website.
Learn More About UM and its Surrounding Area 
Learn More about SDSU and its Surrounding Area
 Any further questions?
Feel free to contact the initiators and responsible persons
of the SDSU-UM student and faculty Exchange Program.
Please select the person you contact according to your question.
Dr. Georg E. Matt
Professor, Department of Psychology
San Diego State University, CA, USA
gmatt@sdsu.edu