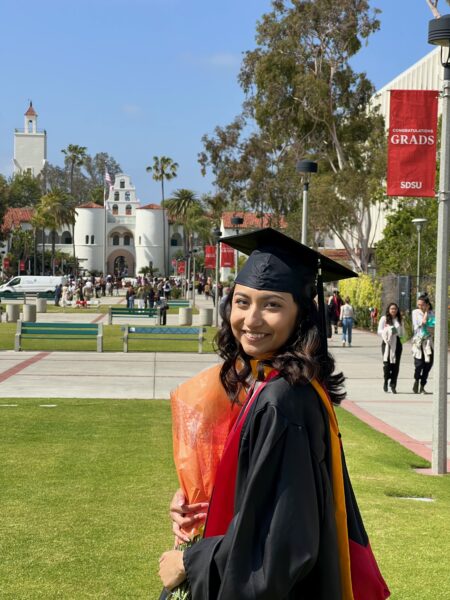 Congratulations to Alisandra Macias, a master student in the SDSU Department of Psychology who was awarded the Becky Award for her thesis entitled: "Exploring Relationships Between Acculturation, Familísmo, and Parental Familísmo Values and Young Adult Latino Mental Health Stigma and Help-Seeking Attitudes." Alisandra Macias received her Bachelor of Arts degree in Psychology from California State University, Chico in 2020. She then received her Master of Arts degree in Psychology from San Diego State University this past spring of 2023. During her time at SDSU, she worked under the mentorship of Dr. May Yeh in the Child and Adolescent Mental Health Lab, where they focused on cultural issues in the context of mental health service use and interventions for culturally diverse youth/young adult populations. Alisandra is currently pursuing her Ph.D. in Clinical Psychology at Virginia Commonwealth University where she is continuing her research focusing on the examination of cultural and parental/familial influences on Latinx youth mental health. Congratulations to both of you for an excellent thesis!
The Bryson-Kissinger family established the Rebecca Bryson-Kissinger Memorial Award in 2000 to honor the memory of their former faculty colleague, who for many years served as the Department's graduate adviser. The award, affectionately known as the "Becky," is given to the master's student in the Department of Psychology whose thesis has been selected as the best from among those submitted during that academic year.
Thank you to the members of the selection committee Dr. Terry Cronan (Chair of the Becky Committee), Dr. Jeff Conte and Dr. Susan Brasser. Congratulations to Alisandra Macias, and her mentor Dr. May Yeh.