Recreation in the countryside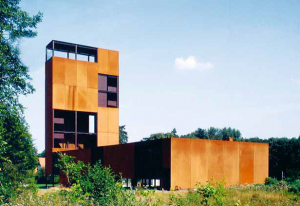 Osnabrück is surrounded by a charming countryside that offers many recreational activities.
Whether you enjoy walking, cycling, jogging or mountain biking – with around 2,300 km of long distance and circular footpaths in a romantic landscape and 1,500 km of bike paths, you're sure to find what you're looking for.
The ridges of theTeutoburg Forest and the Wiehen Hills shape Osnabrück's surroundings. Most of the region is part of the nature reserve TERRA.vita, a European network of nature parks.
The Varus Battle – Museum and Park Kalkriese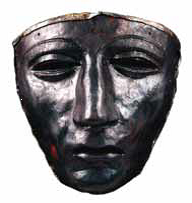 The devastating defeat of the Roman legions under Varus in the year 9 AD against the Germanic tribes is legendary. The victory of Arminius was supposed to be the beginning of the end of the longlasting Roman Empire. Where and how exactly Arminius succeeded encouraged a lot of speculations and myths. In 1989, the site near Kalkriese was discovered by archaeologists and the excavation is still continuing. Nowadays, Kalkriese is one of Europe's most important excavation sites and enjoys international recognition. In 2002, the new museum opened with an observation tower standing 40 meters (43.7 yards) high. The museum was awarded with the European Heritage Award in the category »Archaeological monuments« in 2005. It is to date the only archaeological institution in Germany awarded with this prize. Well-known are Kalkriese's spectacular events such as light and sound productions or Northern Germany's unique Roman Days.
2,500 kilometers cycling experience
Here are three attractive tours selected from ten cycling tours with varying themes, four long distance bike trails and a total of 2,500 kilometers of marked routes: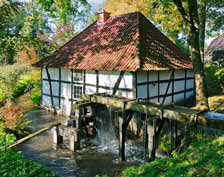 Lower Saxon Mill Tour The "Lower Saxon Mill-Tour" takes you on 405 kilometers by bike from mill to mill. The longest cycling tour introduces visitors to the different landscapes of the nature reserve TERRA.vita in the Osnabrück region: the gorgeous, flat Artland region and the diverse routes across the Wiehen Hills and the Teutoburg Forest.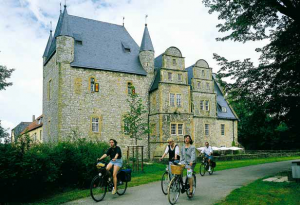 Garden Dream-Tour This tour is something truly special: 38 private gardens invite flower and plant lovers for a visit. The route with a total of 165 kilometers can be shortened individually. The exchange with garden enthusiasts on all kinds of gardening topics goes without saying. Read more (in German).
Artland Cycling Tour In the 18th century, the competition between wealthy farmers resulted in this unique farm culture. On 150 kilometers you can experience magnificent halftimbered houses with elaborately carved gables in a park-like landscape. On some farms, a small café invites bikers for a break or a "hay hotel" offers rustic lodging.
Click here to read more about the Osnabrück Region (in German).