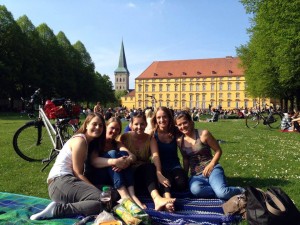 Which Program and When?
Designed for students of different disciplines from all over the world
Taught in English
Great combination of

Academics
Taster courses in German language
Exciting cultural activities

Programs are centrally organized by the university's International Office in close cooperation with the relevant faculties.
Three programs
1.  Biodiversity : The diversity of ecosystems, genes and species
2.  International Perspectives on Health Care
3. Intercultural competencies
Eligibility: Summer Program on Intercultural Competencies
Advanced BA students, MA students and Ph.D. students of Psychology or a related  subject that applies basic psychological concepts, e.g. Economic Sciences and Educational Sciences minimum age of participation is 18 years.
Language of Instruction: English (Level B2)
Credits: 5 ECTS credits (3 SDSU units)
How and When to Apply?
IMPORTANT: SDSU Students must first apply for study abroad with the International Student Center (ISC) on campus and meet all ISC deadlines and requirements.  SDSU Psychology students must also apply through the Psychology Department International Programs Coordinator (contact Professor Kate Hattrup for more information: khattrup@sdsu.edu).
Intercultural Competencies:
General Course Description
This course focuses on psychological aspects of Intercultural Competencies. The course fosters the understanding of intercultural competencies from both the theoretical and practical perspectives. Its major goal is to broaden the knowledge of how intercultural competencies are conceptualized and how these competencies can be systematically developed. The first week will provide students with a general overview on different perspectives on culture and their implications for the understanding of intercultural competencies. The second week includes the possibility to participate in an intercultural training. The third part deepens the content of the course by a practical application: Participants will design their own workshop concept for intercultural competencies.
Week 1: Culture and Competence
This course addresses some basic theories of culture from a psychological perspective. The focus of the course will be on different theories of culture, including both positivistic and interpretive approaches. It aims to give an overview of how different theories of culture affect the understanding of intercultural competencies. The course will start with a brief introduction to different conceptualizations and paradigms of culture, and their implications for intercultural competence. Introductory reading and discussion will be continued by an examination of how theories of culture are applied in work or educational settings. An overview on different types of intercultural trainings follows. Finally, various methods for intercultural trainings based on the different theories of culture are discussed.
Week 2: Intercultural Training
The second section focuses on the transfer of intercultural competencies into practice. This course is designed as an intercultural training workshop. The main goal of this course is to develop intercultural empathy using different interactive techniques and methods. Major topics of this training course will be cultural awareness, cultural values and attitudes, different communication styles and teamwork across cultures. This course, designed as an interactive workshop, seeks to convey a basic understanding of how culture influences the perception of time, space, group dynamics, authority, tasks or relationships. It aims to enable the participants to reflect their own cultural attitudes, values and awareness for cultural differences. The learning methods used in this course include role play, case studies, simulation games and interactive discussions.
Section 3: Application
In the third section, the focus will be on the conceptualization of an intercultural training. In this course, participants will design their own workshop concept for specific training situations. Accordingly, this course aims to strengthen the didactical knowledge of the participants. Based on different materials and the contents acquired in the first weeks, they will draft an intercultural training course for different application areas. In small groups, the participants will prepare specific contents and methods required in different target groups. Examples are trainings for educational staff working with migrants, preparation courses for expatriates or intercultural workshops for multicultural teams. Each group will present its workshop concept at the end of the week.
General Information
This Summer School program is carried out by the International Office, the Faculty of Humanities, Institute of Psychology and the Language Center of the University of Osnabrück.
Osnabrück University International Summer Schools is now on Facebook!
 What Services are Offered for Me?
Cultural Program
A rich cultural program will be part of your Summer School experience!
Osnabrück with its history of more than 1,200 years offers a wide range of cultural locations and recreational activities: Museums, historic sites and picturesque landscapes give you a large variety of options. As part of the program, you will discover quite a few of them!
Also, we will go on weekend excursions to Germany's capital, Berlin, and to Hamburg, also referred to as "Pearl of the North", and do some spectacular mudflat hiking at the shores of the North Sea!
Below, you can find a list of field trips, excursions and other sightseeing tours that were scheduled for the 2015 Osnabrück Summer School programs. Please note: The charges for most of the excursions and visits of sights are included in the respective course fee!
Cultural Program 
German Language and Culture / Deutsche Sprache und Kultur
Excursions / Ausflüge:
Mudflat Hiking / Wattwanderung – from Neßmersiel to the Island of Baltrum, East Frisia / von Neßmersiel zur Insel Baltrum, Ostfriesland
Explore Bremen's maritime flair
Optional: Berlin (overnight stay / mit Übernachtung), there will be be extra costs of €240
Other sights and activities / Weitere Sehenswürdigkeiten und Unternehmungen:
Osnabrück Night-Watchman Tour / Nachtwächterführung durch Osnabrück
German Picnic / Deutsches Picknick
Pub Crawl / Kneipentour
Movie Night / Filmnacht
Sports Program / Sportprogramm
What are The Costs?
Course Fee
The fee of 1,250,- EUR – $1,420 (approx. ) per Summer School program includes:
Lectures, seminars and workshops
Course material (readings, worksheets, textbooks)
Wide variety of cultural, social and outdoor activities
Excursion program to sights in Osnabrück and Northern Germany
Welcome package including information needed for your stay
Individual mentoring
Accommodation in a centrally located student dorm (single rooms) or with carefully selected homestays
Permit to enjoy meals at the university's cafeterias at reduced student prices
Free public transport in Osnabrück
Free wireless internet access on campus
Excluded are:
Travel to and from Osnabrück
Meals and other living costs
Optional excursion to Berlin in the end of the Summer School program (extra costs of € 240 apply, if you choose to take part in the excursion)
Payment
Once the selection process is over, we will send an official "Letter of Acceptance" to all applicants that were chosen to participate in one of our programs. You will either find the bank details for payment on that letter or we will forward you a separate invoice with all the relevant information. If your home institution bears the costs for your participation, we will direct the invoice there. Please note that the common means of payment is bank transfer!
Where Can I Live?

Accommodation
The Coordination Office for Summer Schools will organize your accommodation for the time of your stay in Osnabrück. You will be either accommodated in one of Osnabrück's student dorms or with a carefully selected homestay. Please note that due to logistic reasons, it is not possible to make any commitments regarding your accommodation.
Student dorm
Together with other Osnabrück and international students, you will be accommodated in a single room in a centrally located student dorm. Each room provides internet access and is equipped with a washing facility. Showers and toilets are shared with the fellow roommates of each corridor, and so is the kitchen where you can store foods in a fridge and prepare meals. The student dorms also feature common rooms for eventual get-togethers or facilities for outdoor activities. The laundry rooms provide washing machines and tumble dryers. Any student dorm can be easily reached by public transportation.
Homestay
Staying with an Osnabrück family, a single madam or a living community with other Osnabrück students is a great way to enhance your German language skills! To make sure that you are in good hands, we inspect all of our homestays thoroughly through home visits. And even if you might at first not feel too comfortable with the idea of staying with a homestay, we can assure you that you will soon more that appreciate it! Homestays provide you with a single room, shared facilities and you may, of course, also use the kitchen. All homestays are within reach of public transportation.
What are the Requirements to Study in Germany?
Visa
Please inquire early, at least 8 weeks prior to your trip, at a German consulate or embassy in your home country about visa requirements. Students from the United States, Mexico, Singapore, Australia and from a number of other countries may enter Germany with a passport only and remain for up to three months without a visa. If your home country does not have such an agreement with Germany, you must procure a visa which covers the period of the International Summer School. You need to apply for such a visa at your local German embassy or consulate and in summertime, many embassies are very busy, so it may take weeks to get an appointment for your interview! Please note that you will have to provide different documents on your pre-scheduled appointment, so we recommend that you prepare them carefully! It is also recommended that you bring along a document (i.e. from your parents or funding agency) that certifies that you can cover the costs e.g. of your living expenses for the time of your stay. Also, it will take some additional time after your official application to finally obtain your visa, so please make sure to start the process as early as possible! If you plan to travel before/during/after the International Summer School to other countries, please make sure you apply for a multiple entry visa for Germany. For further information click here.
Insurance
You must
have health insurance to take part in any of our Summer School programs. We recommend private liability insurance and accident insurance as well. If you need to arrange for insurance yourself, please ask your insurance agency at home if you are also covered in Germany. If not, we have listed a few insurance agencies below. They all offer different insurance packages, by the month or exact to the day, for reasonable prices. You may, of course, choose any other insurance agency, also.