The two recipients of P.E.O. Scholar Awards, who were nominated by P.E.O. International's local chapter in Rancho Santa Fe, are both from the clinical psychology JDP (Anny Reyes and Zanjbeel Mahmood). 
Congratulations to Anny Reyes and Zanjbeel Mahmood!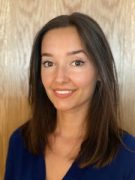 The P.E.O. Scholar Awards are one-time, competitive, merit-based awards intended to recognize and encourage academic excellence and achievement by women in doctoral-level programs. These awards provide partial support for study and research.
P.E.O. Scholars have demonstrated their ability to make significant contributions in their chosen field of study, having assumed leadership positions in university academics, scientific research, medicine, law, performing arts, international economics, history, literature, government and other demanding fields.