"A lifetime achievement award isn't always a sign of a career that's winding down, but in Jerome Sattler's case, it wasn't even close. Professor emeritus Jerome Sattler remains engaged with SDSU nearly two decades after leaving the full-time faculty.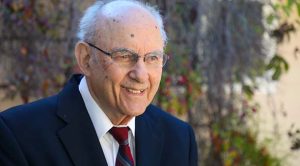 Sattler, professor emeritus and an adjunct professor of psychology at San Diego State University, has made major gifts to the University Library and his department in the College of Sciences. Widely recognized as an authority on cognitive assessment in children, he has authored two college textbooks on the subject, one in its sixth edition and the other in its seventh, released just this year by his own publishing house.
Small wonder that the American Psychological Foundation awarded him its gold medal for life achievement, meant to recognize enduring careers in psychology and limited to recipients who are at least 65 years old, accompanied by a citation attesting to Sattler's "rare combination of intelligence, clarity of thought, flexibility, patience, creativity, and excellent writing ability."
That was the year Carrie Underwood won "American Idol," Sandra Day O'Connor retired from the Supreme Court, and Hurricane Katrina struck New Orleans: 2005.
"San Diego is the place that allowed me to grow and develop more fruitfully than any other place in the world," Sattler, now 91, said in a chat with the University Relations and Development division. "This is my way of giving back."
Sattler left the full-time faculty in 1994 but has been invited to stay on as an adjunct professor ever since, giving him library privileges critical to his ongoing publishing. The dedication at the front of his most recent book thanks SDSU for 56 years of support and "all that you have given me."
His endowments provide scholarships to psychology students and support the library, "my right, left and middle arm" through its interlibrary loan program and research staff. He has also created five endowments with the San Diego Foundation, all dealing with children.
Early days
Sattler's upbringing in New York City's Jewish community, the child of post-World War I immigrants, is a classic first-gen tale of its time. His father, who served in the Russian military, worked in the garment industry and became skilled in a specialty known as fur nailer. His mother, from Poland, lost a sister in the Holocaust.
For young Jerome it was stickball in the streets, delivering newspapers and summer vacations in the Catskills. (The Borscht Belt exposure may have rubbed off on Sattler; reflecting on his brief tenure later in life as a professor in frigid North Dakota, he cracked: "We rejoiced when it went up to 0 degrees.")
After Sattler began his higher education at City College of New York ("passing through," as he refers to it), he moved to Kansas and enrolled at the University of Kansas. The courses he took in general psychology began his interest in the field and gave him his introduction to neuropsychology and clinical assessment
In 1965, Sattler was among 16 tenure-track faculty members recruited to San Diego State College during a three-year hiring binge by famed psychology department chair Oscar Kaplan, who was firmly on the "research" side of the teaching-or-research schism of the era. (Sattler took Kaplan's call in the middle of a graduate-level group-therapy class he was teaching).
San Diego State "provided me with a professional home," said Sattler, who has conducted workshops all over the world on his specialty and recently filled book orders from Malaysia and New Zealand. "It gave me the time to do my work, it gave me the resources, it gave me colleagues who I can share my questions with."
"On every count the university experience was A+."
Sattler said the paid scholarship, internship and fellowship he received as a student in Kansas gave him an appreciation for the importance of financial aid for struggling students.
In San Diego, Sattler has met with student beneficiaries of his contributions from time to time at donor lunches. "It was wonderful to see them and to hear about their careers."