My name is Dishanki Savla and I am a master's student studying Applied Psychology: Quantitative Methods. I started working at EDF Renewables in April and it has been a wonderful learning experience. I am grateful to work with people who are brilliant and supportive. For my role, I've been tasked with creating dashboards for the HR leadership team and helping to improve workflow processes.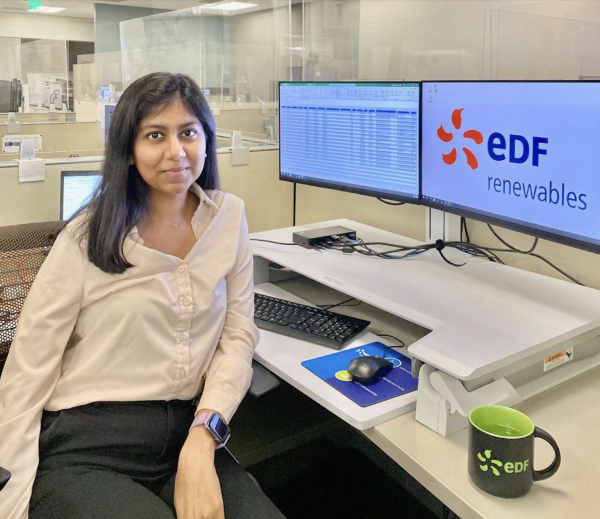 Below is a glimpse of a typical day in my life at EDF Renewables:
8:30 am: I start my day by checking new emails and compiling a list of tasks to complete for that day. This helps me keep track of my deliverables and their deadlines.
9:00 am: Once a month we have our all-hands meeting at this time. This meeting brings everyone in the department together where the head of HR shares important updates, recognizes employees for their contributions and everyone gets an opportunity to ask questions.
10:00 am: If it is the end of the month then I create a monthly report for the leadership team or any ad-hoc reporting request that I get from senior leadership.
12:00 pm: I generally go out for lunch with my coworkers at this time or if I have more work then I will eat lunch at my desk and get back to work. 
1:00 pm: I continue working on my tasks for the day or if I have time I will work on the dashboard that I am currently working on to present at the end of my internship. 
3:00 pm: We have a few weekly meetings to discuss the progress on the dashboards that are being built and to define new KPI's that we plan to track in future and eventually add them to our dashboards.
5:00 pm: I end my day around this time and before that I check my to-do list to ensure that I have completed the priority tasks for the day and and the pending tasks for the next day. 
Even when I was only halfway through my internship at the beginning of June, I had learned a tremendous amount and continued to grow as a professional over the summer. Apart from the learning experience, I am fortunate to be in a position where I am fighting the good fight alongside an amazing team!

This post was lightly edited by College of Sciences Communications for clarity and brevity.