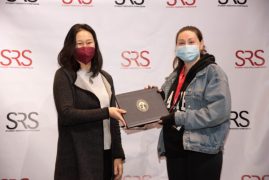 "With rain pouring down outside the Conrad Prebys Student Union, Samantha
Tasman, a senior psychology major at San Diego State University, nervously awaited
the start of the 2022 Student Research Symposium, stealing glances out the small
second floor window. She was the first of several students in her lab to give a talk
and had never given a formal research presentation to an external audience.
Once the moderator gave her a signal to begin, Tasman calmly narrated the
importance of her project examining the effects of prenatal exposure to nicotine and
THC in rats. In her South African accent, she explained how she measured the rats'
motor development in their first two weeks of being born, a task she had recently
been assigned to lead.
Encouraged by a few nods from her advisor, Dr. Jennifer Thomas, Tasman answered
questions about the implications of her surprising findings that prenatal drug
exposure both delayed and advanced typical hindlimb coordination in rats,
depending on dose.
"I just tried to enjoy it and share how excited I was about the research," Tasman said,
but she did not feel entirely confident with how she had responded to some of the
follow-up questions from the audience. "For the past couple years, people have
presented from the lab. Each year, someone wins an award and I didn't want to ruin
the trend."
The next evening at the award ceremony, her name popped up as one of the
winners of the Undergraduate Research Excellence Award. Tasman was shocked.
"You always go a bit harder on yourself than others do. So it was rewarding when all
my hard work was recognized," Tasman said. "It was just the best feeling. I felt very
proud to represent my lab. And they were definitely proud."
"I definitely didn't think I would enjoy it as much as I did. It's exciting to know you're
part of something bigger and you're helping the world gain more knowledge."
Link to Full Article: https://sciences.sdsu.edu/srs-cos-2022/