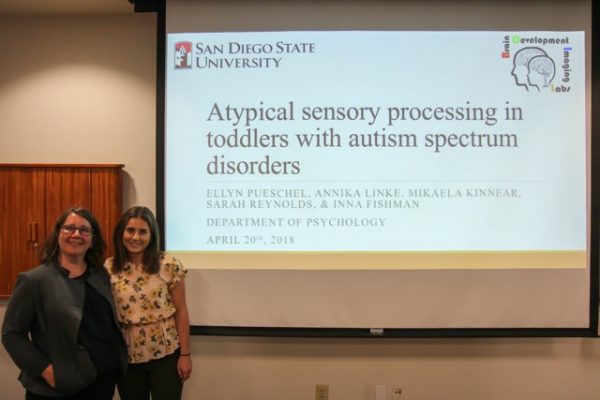 Congratulations to Ellyn ('Elly') Pueschel, who was selected the 2018 Outstanding Graduating Senior in Psychology!
A first-generation college student, Elly has shown an exceptional motivation and hard-working spirit, by excelling academically and having graduated in just three years! Her curiosity and motivation have led her to seek out opportunities for research involvement early on, in her first semester in college, when she joined the Brain Development Imaging Labs (BDIL) research cluster. She has initiated and completed several research projects focusing on atypical development in autism, showing impressive productivity as well as collaborative spirit, as reflected by multiple abstracts, presentations and manuscripts that she co-authored. In 2017 Elly received the Autism Science Foundation (ASF) Undergraduate Summer Research Award, one of only six undergraduate students in the country to be awarded this competitive research fellowship that year. In addition to showing academic excellence, Elly has also demonstrated commitment to student involvement: she has been a student in the Weber Honors College and has been actively involved in the Psychology club and the Psi Chi International Honor Society in Psychology.
Elly's hard-working spirit, enthusiasm and dedication to learning and discovery has paid off and she was accepted into a doctoral program in Developmental Psychology at USC, which she will start this Fall.
Elly wishes to thank her mentor and the Most Influential Faculty member, Dr. Inna Fishman.